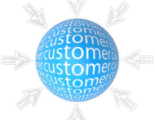 Here are our 10 top tips that for improving your customers' experience.
Get buy-in from the top.

Everyone has to be bought into the drive to deliver outstanding customer experience. It is especially important that the leadership team of a company is fanatical about this. If the people at the top aren't obsessive about customer experience, you can't expect people elsewhere in the company to be so.

Make customer experience someone's responsibility.

Delivering excellent customer experience is everyone's responsibility. However, it is important that someone in the organisation takes responsibility for making sure it happens.

Consider all parts of the customer journey.

Customer experiences are influenced by many touch points. The tone of voice on the website, communications from credit control, the appearance of the delivery vehicles, all contribute to the customer experience. Make sure you understand all parts of the customer journey.

Work from the inside out.

The customers' views are important and we will get to that. However, before asking customers' views on you as a supplier, examine every part of your organisation. You should be able to recognise where there are pain points.

Ask the right questions of your customers.

Listen to your customers. Ask them about the experience you deliver. And make sure that you are asking the right questions.

Share the findings internally.

Let everyone know what customers are saying – the good the bad and the ugly. This is not about apportioning blame; it is about finding ways of improving customers' experience.

Set benchmarks for success.

Let everyone in your organisation know what targets you have for improvements. The targets should be stretching and realistic. Don't just benchmark against your direct competitors. Customers will be measuring your performance against a much wider number of suppliers.

Engage employees.

Get your staff engaged in finding ways of delivering outstanding customer experiences. Let them develop new processes. This will ensure they are more likely to happen.

Motivate employees.

People want to deliver outstanding customer experiences. Give them reasons for wanting to do so. Seeing happy customers will in itself be motivating and you should celebrate and reward employees when this happens.

Continual measurement.

Monitoring is important in any aspect of your business. It is especially so with customer experience. Make sure that you have a feedback mechanism that works. In business to business markets this may be the annual customer satisfaction survey. However, there may be situations where a more frequent finger on the pulse is required.