It's true. Some of the best ideas have "eureka!" moments, whether in the bath, walking through fields, or by fortunate accident. Of course, we can't wait around for those magic moments. We need a process for generating ideas and ideation research sessions are the key.
An advanced approach to product development
Remember, new products do not have to be absolutely revolutionary – many are simply new improvements on existing ones. Ideation research and co-creation research can help give birth to those new ideas.
To read our white paper on product development, follow the link below:
Our solution
Our ideation research sessions have a solid structure. They often begin with a discussion on the target audience and their needs, how those needs are met, and any unfulfilled gaps.
We then determine whether any of these gaps are sufficient to warrant our interest.
This means mapping the ideas in terms of what appears to be attractive to customers and what appears to be feasible in terms of profitably meeting needs with an appropriate product or service. During this stage, anything that shows low attraction for either the market or the company is eliminated. In other words, it is a gate through which the new ideas have to pass.
What is involved?
Ideation research sessions need planning. The careful selection of the ideation team is a prerequisite to a good session. People from research and development, marketing, sales and production could be candidates for attending – the more creative the team, the better.
It is important that the members of the ideation team are briefed on what is expected of them. Good ideas are developed after sleeping on them, so advance warning and some pre-reading or homework helps the process.
The ideation research session should be long enough to allow the germination of ideas. Typically it requires a full day and sometimes longer. Working off-site usually helps.
During the ideation research session the moderator controls and directs the discussion. The output from the session must be captured, very often on flip charts, which can be stuck around the room to remind people of the output. The moderator constantly drives towards an objective of finding at least a good number of worthwhile ideas by the end of the session.
At the end of the session there will be a roomful of flipcharts. These are usually typed up and fed back to the team for review. The process of thinking of ideas doesn't stop at the session; more ideas and refined ideas are expected to continuously flow after the event.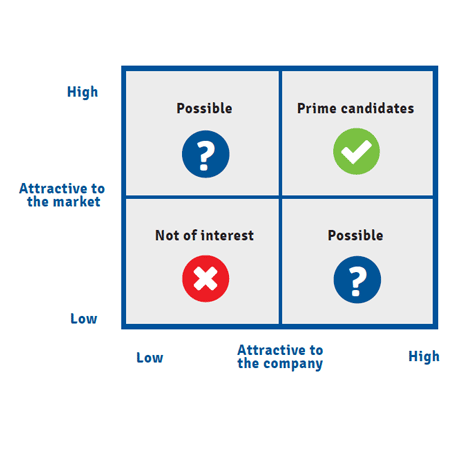 Case study: Working out how to be different
Business challenge
A manufacturer of workwear wanted ideas to differentiate itself from the competition.
What we did
A dozen people from various departments in the company were recruited to take part in the session with a moderator from B2B International. The session was held in a room at a sculpture park with the aim of taking people outside their day to day environment. A short warm-up exercise involved using pipe cleaners, bits of felt and crêpe paper, glue glitter and other junk. This loosened up the group and got them thinking in new and different ways. Ideas flowed liberally and were screened in a 'Dragon's Den/Shark Tank' setting. The session resulted in 20 strong candidate ideas which were put forward for review and ultimately three of them have been launched as successful products.
Sections on Product Development