In the mid-1970s, the Dutch economist, Peter van Westendorp, proposed a simple technique for establishing the optimum price for products by asking four questions.
An intelligent pricing tool
The four questions that make up the Van Westendorp technique are:
At what price would you consider the product to be so expensive that you would not consider buying it? (Too expensive)
At what price would you consider the product to be priced so low that you would feel the quality couldn't be very good? (Too cheap)
At what price would you consider the product starting to get expensive, so that it is not out of the question, but you would have to give some thought to buying it? (Expensive/high Side)
At what price would you consider the product to be a bargain—a great buy for the money? (Cheap/good value)
The intersection of the responses to these questions produces a graph from which we can determine the optimum price: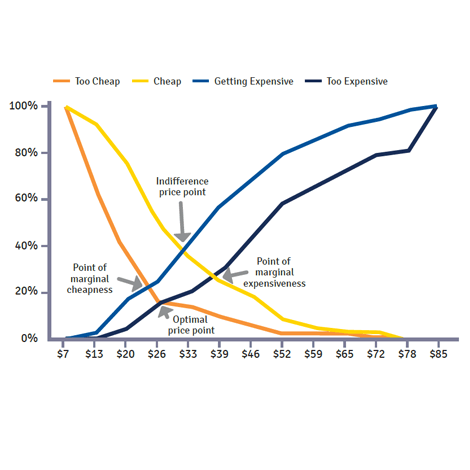 Our solution
The van Westendorp method is simple to apply and the results prove very reliable. As few as 50 interviews can give a very accurate response. The technique is best used for new products to ensure that they are not launched too cheaply, leaving money on the table.
The tool can be applied in telephone interviews but it is best used in online surveys where respondents can give due consideration to what they think of different prices.
Case study: Offering a new method of language training
Business challenge
Our client wanted to offer a new method of language training which involved a mix of online and telephone training exercises.
What we did
Respondents were chosen who either had used a language training agency or who were considering using one. Using the Van Westendorp technique, robust results were obtained across a number of different countries.
This clever pricing tool enabled us to recommend a global pricing strategy rather than a regional pricing strategy because we could see that people in different countries perceived the training course to have a similar price.