The Russian market research industry is growing rapidly, driven both by domestic growth and the huge interest in the country by foreign investors.  In a country where market research was virtually non-existent less than 2 decades ago, foreign and domestic agencies are conducting large volumes of work aimed at helping new companies expand into Russia and established companies defend and extend their positions.
This paper examines the development of the market research industry (in particular the business-to-business market research industry) in Russia and the unique characteristics that set Russia apart from other research markets.  We then move on to predict what the future holds before finishing with some recommendations for buyers looking to research this fascinating market.
Development Of The Russian Market Research Industry
The Russian market research industry dates back to the early 1990s, when large multinational companies such as P&G, Unilever and Coca-Cola began a large-scale expansion into the Russian market. These major FMCG players introduced a culture of marketing and market research to Russia, at a time when the country was experiencing a transition from a planned to a market economy.  It could be said that as well as profiting from the increasingly deregulated market, these companies actually accelerated the transition.
Unlike another key developing market, China, business-to-business research played an important part in the very early development of the market.  This was mainly driven by European and North American companies, who were beginning to see Russia as an important market and who were keen to establish manufacturing operations in the country.  Hence, most research in these early days consisted of market entry and other market assessment studies, looking at issues such as routes to market, value chain analysis, market needs and entry strategies.
As there were no real market research agencies or qualified researchers, no culture of market research and few international language skills in the domestic market, most early b-to-b studies were carried out by consulting companies such as Ernst & Young and Price Waterhouse, as well as through universities and state sociological institutions.
Over time, Western client companies entered the Russian market and a requirement for comprehensive, independent research into Russian consumers and businesses developed.  This led to the arrival of large international research firms such as ACNielsen, Macro International, MMRB and GfK.  This in turn led to the establishment of 'indigenous' market research agencies.  Russian Market Research Company (RMRC) was set up by Greg Thain, F-Squared was established by Michael Fodor and Shane Farrell, and Russian sociologists such as Elena Coneva (Comcon) and Elena Bashkirova (Romir) entered the social research arena.
Market Size & Growth
As with the research industry in most countries, consumer research dominates in terms of market size.  By 1995, the market was worth around US$30m, b-to-b research representing almost $3m of this.
Despite the financial crisis of the late 1990s, the Russian market research market has continually grown at an exponential rate.  By 2001 the total market was still worth a relatively modest US$55m, but by 2007 it had grown by a further 473% to $260m, and an estimated $300m- $310m in 2008. The b-to-b share of this market still stands at under 10%, around $25m-$30m.  It is worth putting this growth in context by looking at the size of the world's two biggest research markets.  Total turnover in the USA is currently estimated at around $8bn, against $2.5bn in the UK.
The drivers of the exponential growth we have described are many and varied.  Number one, however, is simply the growth of the Russian economy, which began with the move towards a market-based economy in the early 1990s.  This stimulated both domestic demand, and foreign interest in Russia as a target market, in both b-to-c and b-to-b sectors.  Secondly, between 2003 and 2008, there was a huge flow of oil dollars into the country.  Not only did this engender interest in research related to the oil industry, more generally it boosted the Russian economy, further stimulating foreign interest.  Thinking more specifically about the market research industry, the capabilities of agencies based in Russia have increased significantly, meaning that clients now have a high level of confidence in the data with which they are provided.
Which Types Of B-to-B Studies Are Conducted?
Study Types
The projects conducted early in the life of the Russian market research industry were largely based around market access, market sizing and routes to market.  This reflected the fact that buyers were foreign companies with little knowledge of the Russian market, and little or no presence in the market.
As the table below shows, this situation changed dramatically within the space of a decade.  All major types of b-to-b research are now conducted in Russia, including research aimed at enabling differentiation in relatively mature markets (such as branding and segmentation studies).  As a result, studies now tend to be more detail-focused, requiring more high-level staff and specialist staff (such as statisticians) than ever before.  Product development research has also become important to buyers of Russian b-to-b market research.
Figure 1 – Types of Studies Conducted in Russia
| Types of studies | Mid 90-s | Mid 00-s |
| --- | --- | --- |
| General market overview | | |
| Market size evaluation | | |
| Routes to market & dealership studies | | |
| Use & attitude | | |
| Segmentation |   | |
| New product concept testing |   | |
| Advertising studies |   | |
| Branding and image studies |   | |
| Pricing studies |   | |
| Car clinics |   | |
| Customer satisfaction |   | |
| Mystery shopping |   | |
It is worth mentioning that mystery shopping has suddenly become fashionable among Russian clients, including b-to-b companies, over the past 2 years.  One reason why this type of research is viewed as so important is the need to increase service levels in Russia in most industries.  This is seen as a particular problem amongst Russian companies, rather than multinationals.  Unfortunately, the objectives, opportunities and limitations of this type of study are often misunderstood and the projects perceived more as a tool for identifying and admonishing underperforming staff, rather than controlling and improving service standards.
Specialised pricing studies and customer satisfaction are still quite rare, and are initiated mainly by foreign clients from abroad as part of their multi-country surveys. More often these themes are studied in a limited scope within the framework of use & attitude, segmentation, or concept testing studies.
Qualitative Versus Quantitative
The ratio between qualitative and quantitative b-to-b research studies (by value) has been gradually changing throughout the 1990s and the 2000s in favour of quantitative surveys. In the 1990s quantitative studies were rare, with the prominent use of desk research and expert interviews reflecting the fact that most research was geared towards market assessment and market entry. Now, however, the qual/quant ratio is estimated at around 50:50, with use & attitude, product concept testing and segmentation studies moving away from qualitative and towards quantitative methodologies.
Geographical Tendencies
The geographical scope of research studies in Russia has changed as the horizons of Russian and international companies have widened.  It is fair to say that, at the same time as becoming broader in geographical scope (and less Moscow-centric), studies have also become more focused on particular areas, with an increasing need to split results between specific key regions.  Outside Moscow, Saint Petersburg is the second most researched location, with industrial centers such as Ekaterinburg (Urals), Rostov-on-Don (Southern Russia) and Voronezh (Central Russia) increasingly important.  But, of course, each individual project and client has its own locations of interest.
The table below shows where the key industries, and therefore research into these industries, tend to be located.  This has been divided into 2 tiers, in descending order of prominence:
Figure 2 – Key B-to-B Market Research Locations Within Russia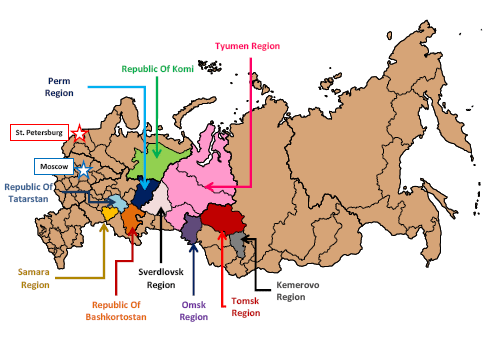 First Tier
Location
Key industries
Moscow
Hyper concentration of financial resources,
Highly developed service sector and booming construction
Tyumen region
Main oil producing region in Russia with two-thirds of the country's volume of oil extraction
St. Petersburg
Industrial and transport centre (year round ice-free port)
Second Tier
| Location | Key industries |
| --- | --- |
| Republic of Tatarstan | Chemical industry, aviation industry, machinery |
| Sverdlovsk region | Industrial centre (metallurgy, machine building) |
| Samara region | Automotive industry, air- and space industry |
| Republic of Bashkortostan | Chemical industry |
| Perm region | Oil refining and chemical industry |
| Kemerovo region | Metallurgy, coal mining, machinery |
| Republic of Komi | Timber, coal mining |
| Omsk region | Machinery |
| Tomsk region | Machinery |
Key Agencies Carrying Out Research In Russia
Foreign firms are still dominant when it comes to commissioning b-to-b market research studies in Russia, accounting for around 80% of market revenue.  However, whilst in the early 1990s the majority of clients were located abroad, now about half of the studies are initiated by their local offices or by domestic companies.
Russian clients have developed a particular interest in b-to-b studies in the telecommunications industry (e.g. MTS, Beeline, Megafon), financial and banking services (Alfa-bank, Uralsib and others), the automotive industry (among them GAZ plant and OAO "Promtractor"), metal manufacturing (RGMC, Evraz Group and others). Construction market research (for example for MIEL, MIAN) is also common. Foreign companies are also interested in these sectors, as well as the traditional industrial sector, where routes to market and avoiding competing on price are key issues for them.
Around two-thirds of all commercial market research studies in Russia – and 80% of all b-to-b projects – are executed by 9-10 major agencies, many of these international agencies.  Major players include ACNielsen, GfK, TNS, IPSOS, Comcon (Research International) and Armi-Marketing (Millward Brown).  B2B Vector is one of very few agencies in Russia specializing in business-to-business market research, with the remainder of b-to-b studies conducted by smaller players with mixed b-to-b and b-to-c offerings.
How Is Information Gathered?
The most effective interviewing method in Russia remains face-to-face interviews.  This methodology allows interviewees to see exactly who they are speaking to.  This is an important factor in an environment where concerns about industrial espionage and surreptitious visits from regulators are common.  In a face-to-face meeting, Russian respondents may well be willing to spend around an hour speaking about their business and their views on a range of issues.  A financial or other gift is usually provided to the respondent as a thank you for his or her participation.
Telephone interviewing is therefore far less common than in Western markets, for the above reasons and also because there is a cultural reticence to spend long periods of time discussing issues in this way.  Whereas in Western markets telephone interviews of 30 minutes plus are quite common, 15 minutes is the usual maximum in Russia, meaning that questionnaires have to be more focused and shorter in length.  This is a key challenge in a country as vast as Russia, as telephone interviews are often the only viable option when respondents are scattered across distant regions.
Cultural concerns over confidentiality, as well as an unfamiliarity with the egalitarian dynamic of group discussions, have also hindered the development of face-to-face focus groups, which are very uncommon in Russia.  As is the case in China, 'mini groups' of up to 4 people are often the maximum focus group size achievable.
Desk research is an invaluable source of data within Russia, with the myriad of associations and Government agencies offering good quality macroeconomic and industry-specific information.  Most of this information is available in Russian language only, albeit English data is increasingly available.  Because of the language issue, good quality desk research almost always requires a Russian-speaking consultant.
Online data collection techniques (notably web surveys and online focus groups) are currently in their infancy in Russia, hindered by limited bandwidth, limited access to Internet connections by respondents (especially in outlying regions), and limited acceptability of online data collection amongst all but a few respondent groups (notably IT professionals and those aged under 30).  These barriers are particularly strong away from key centers such as Moscow and Saint Petersburg.  However, they are also diminishing over time and online techniques are predicted to grow substantially over the coming 3-5 years.
What Can And Can't Be Asked?
The Russian business environment is less open than is the case in Western markets, meaning that certain types of information are difficult to obtain.  Most difficult of all is company financial information – even basic information such as revenue and profit – which in many Western companies would appear on the company website.  This makes competitive studies and market sizing projects quite a challenge.
In general, the less established market research culture, and the relatively hierarchical structure within companies, means that respondents are not familiar with answering projective questions or exploring idea generation.  The most effective questionnaires are those which focus on facts and opinions on clearly defined subjects, rather than exploratory or projective questioning.
Price Of Market Research Studies In Russia
Russia is a vast country, and it is well-known that Moscow is one of the most expensive cities on earth.  Agencies within Russia recognise the value to their clients of good quality intelligence relating to this important market.  For these reasons, market research within and outside the capital is significantly more expensive than any of the other BRIC countries, and comparably priced to research in Western countries.  Clients are therefore increasingly diligent when weighing up the ROI of research in Russia, but increasingly arrive at the conclusion that obtaining an informed view of this unique market is worth the investment.
Into The Future
Despite the current worldwide financial crisis, the long-term prospects for the Russian b-to-b market research industry look bright.  The rate at which the market develops will depend largely on its ability to adapt to the following challenges:
Russian clients' immaturity of marketing philosophy and business approach, which is currently driven by low costs, assumption of effortless growth of demand, and low competition
Unwillingness to compromise with clients, suppliers and partners symptomatic of low value placed on market research (which largely explores the views of others)
Lack of market research traditions among companies operating in the b-to-b spheres
Ad-hoc financing or low annual budgets for market research
Unrealistically low price expectations toward market research initiatives among client companies
Quality problems that were experienced early in the life of the research industry, and have had a lasting impact on clients' views of the industry
Communicating with potential client-base, which is dispersed across the world and across industries
Convincing foreign clients to commission work within Russia
Recommendations For Research Buyers
It has been seen that b-to-b market research represents a significant niche in the Russian research industry.  It is developing quickly as domestic and international clients alike recognise the value of researching Russian markets.  If you are considering commissioning market research into Russia, we would make 3 key recommendations:
Scoping – Russia is a vast country and it is impossible to research it all at once.  Is it really the whole of Russia you are interested in?  If you entered the Russian market, would you really be able to service Vladivostok on the Pacific Coast as well as Moscow?  Are your customers really spread equally throughout the country, or are they concentrated in one or two regions?  Far better to focus on the region or regions that are important to you.
Professional rates for a professional job – Travelling around a country the size of Russia is expensive.  In 'European' Russia, particularly Moscow, travel, flights, rents, hotels and most other overheads are comparatively expensive.   This has a direct impact on all businesses' prices.  Most importantly of all, professional and experienced business-to-business researchers are a rare and precious commodity in Russia and their fees tend to reflect that.
Trust the agency – Conducting market research in Russia is different to conducting research in North America or Western Europe.  Face-to-face contact is key.  Incentives, which are seen as an acknowledgment of a respondent's expertise, are more necessary than in Western Europe.  Telephone questionnaires are shorter than in the US and Canada, whereas face-to-face interviews in Russia can take as long as an hour.  The line of questioning tends to be more direct and less projective than may be the case on a Western questionnaire.  The good quality agencies that are now operating in Russia are ideally placed to advise you on these issues and ensure that you get the most from your project
About The Authors
Tatiana Klimenko is the General Manager of B2B Vector in Moscow. She has 15 years' experience of conducting market research in Russia and the UK.
Email: Tatiana.klimenko@b2b-vector.ru
Telephone : +7 (495) 937 45 33
Web: www.b2b-vector.com
Matthew Harrison is B2B International's Director of International Operations.  He specialises in global research and has worked for B2B International in the UK, China and the US.