The Growing Business Handbook is a practical source of advice and reference for companies with dynamic growth potential.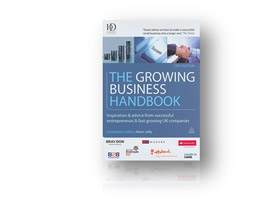 Aimed at senior managers in growing companies, this new edition highlights the latest ideas, techniques and solutions for maximizing growth, exploiting and protecting your best ideas and inventions, and controlling risks. 
Combining the knowledge and expertise of leading professional advisers with the experience of entrepreneurs, it gives a comprehensive insight into the challenges involved in building a high-growth venture in 2011 and beyond.
To download individual chapters (in pdf), please click on the links below.
| # | Chapter Name | eBook |
| --- | --- | --- |
| 1 | Planning for growth | pdf |
| 2 | Ideas and innovation | pdf |
| 3 | Gaining market share | pdf |
| 4 | People and performance | pdf |
| 5 | Cash flow and working capital | pdf |
| 6 | Efficient SMEs | pdf |
| 7 | Leading growth | pdf |
| 8 | International expansion | pdf |
| 9 | Structures for growth | pdf |
| 10 | Growth capital | pdf |