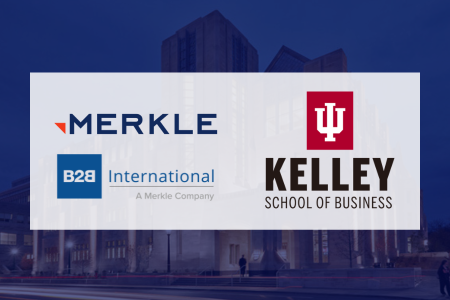 In October, employees of Merkle & B2B International hosted Kelley School of Business grad students at dentsu's Chicago office. During a quick Q&A session, we asked students what drove them to pursue an MBA, how they view the marketing function, and what employers should be highlighting to prospective talent.
Kelley students highlight career advantages to pursuing an MBA…

An MBA degree provides depth of knowledge into the art and science of business, including how to speak the language of business, equipping them with a toolkit for business success, and insight into how to connect the dots between varying functions / roles within organizations to provide a comprehensive view.

Personally, students also see an MBA as way to help them stand out to employers, increasing their trust and credibility as a candidate, and opening the door to more and better career opportunities.

Kelley students emphasized marketing, in particular, as playing a critical role in business as it acts as a bridge between companies and their customers. Students highlight the importance of storytelling in marketing to improve sales of products, as well as providing opportunities to showcase customer-centricity by communicating an understanding of needs and pain points.

In order to attract MBA students, Kelley students indicate employers should highlight factors that go beyond job responsibilities and pay, such as demonstrating to prospective talent how the job provides them with an opportunity to have a positive impact / be a part of something greater. Students indicate these impacts could be internal (e.g., the role having a positive impact to the company), or externally focused (e.g., having a positive impact to buyers / consumers / customers).

Students also indicated that culture of the organization was important, including illustrating inclusivity (DEI) and efforts towards sustainability. Treatment of employees including work-life balance and tone (e.g., how employees speak to / treat one another) was also mentioned.

Students highlighted that there was opportunity for them to help companies innovate and evolve, particularly by leveraging new technologies such as AI. They believe they can make a difference by supporting businesses with user experience improvements such as more impactful messaging with storytelling, as well as improved communications and efforts around sustainability.