The B2B Insights Podcast Channel was created to help marketing and insights professionals navigate the rapidly-changing world of B2B markets and develop the strategies that will propel their brand to the top.
Subscribe today for your dose of exclusive insights from the B2B market experts.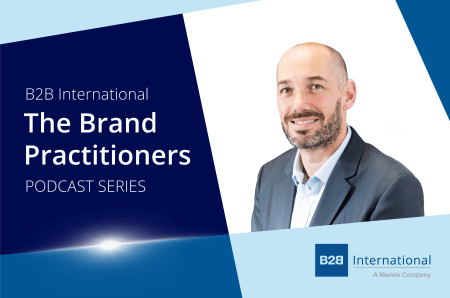 Our recent Brand Masters Podcast Series taught us that effective brand marketing is crucial to driving market share growth over the long-term. The series introduced listeners to key B2B brand building principles from some of the world's leading brand experts.
Now it's time to hear how these principles are being put into action by those responsible for driving brand growth in their own organizations. In this Brand Practitioners Podcast Series, we invite brand leaders from organizations across different industries to discuss how they use brand marketing to drive growth and the role research plays in the overall brand and business strategy.
#1: Enno Houwerzijl, ING
In this first episode, Conor Wilcock is joined by Enno Houwerzijl, Senior Advisor Brand Strategy & Marketing Communications at ING. ING is a global banking and financial services company serving more than 38 million customers, corporate clients and financial institutions in over 40 countries. Its primary businesses include retail banking, commercial banking, investment banking, wholesale banking, asset management and insurance services.
#2: Davion Ford, Arcadis
In this second episode, Nick Hague is joined by Davion Ford, Global Brand Storyteller at Arcadis. Arcadis are the world's leading company delivering sustainable design and engineering solutions for natural and built assets. Arcadis employ over 28,000 people and are active in over 70 countries in the world.
#3: Melanie Forbrick & Rebecca Seefeld, Siemens Energy
In this third episode, Nick Hague is joined by not one, but two wonderful brand engagement experts: Melanie Forbrick and Rebecca Seefeld from Siemens Energy. Siemens Energy is a new brand, having only been founded in 2020, marking a new chapter in the Siemens history of energy technology. The company is young, and ambitions are high. They are already listed on the DAX 30 and are active in more than 90 countries, employing over 65,000 people. Furthermore, they contribute more than 16% of the world's power generation! If you are looking to develop a successful new brand, this is the podcast for you…
#4: Julia Nicoara, Carbon Trust
In this fourth episode, Nick Hague is joined by Julia Nicoara, Marketing & Communications Director at the Carbon Trust. Established in 2001, the Carbon Trust works tirelessly helping businesses, governments, and institutions around the world to contribute to, and benefit from, a more sustainable future.
In light of the increasing threat of climate change, the need to transform how we go about our lives whether from a personal, or business perspective, has never been greater. We must work together towards a greener and more resilient future to protect both our planet and our people. This podcast discussion is therefore a poignant one, and we are delighted to have one of the first "climate pioneers" join us on the B2B Insights Podcast to talk through many important topics.