The B2B Insights Podcast Channel was created to help marketing and insights professionals navigate the rapidly-changing world of B2B markets and develop the strategies that will propel their brand to the top.
Subscribe today for your dose of exclusive insights from the B2B market experts.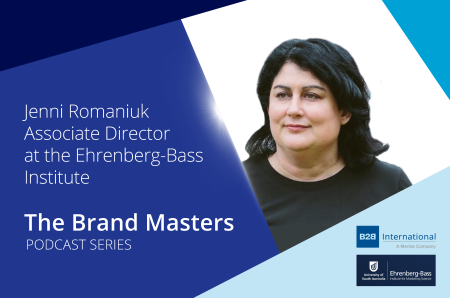 Our latest research showed that building a strong brand position has become one of the top B2B marketing strategies of focus during 2021. Here at B2B International, we help our clients create the ultimate brand experience through thought leadership, brand health tracking and understanding customer expectations (to name just a few).
However, we don't just stop at the research. We wanted to invite some of the B2B Brand Masters onto our B2B Insights Podcast in this latest series, to give you some insights and top tips to help inspire your brand strategy throughout the remainder of 2021 and into 2022 & beyond.
Join our Head of Growth Nick Hague as he takes you on the ultimate B2B branding journey with brand experts from around the world.
This week Nick is joined by Professor Jenni Romaniuk, Associate Director at the Ehrenberg-Bass Institute in Australia. Jenni is the author of Building Distinctive Brand Assets, and developer of the Distinctive Asset Grid. She is a research professional with a key focus on branding. Her research spans a vast array of branding topics including (but not limited to) brand equity, brand health metrics, word of mouth and the role of loyalty and growth. Her book, 'How Brands Grow 2', has recently been updated and in this new edition Jenni writes specifically about business to business markets.
We are therefore thrilled to invite Jenni onto the B2B Insights podcast to discuss the fundamentals of buying behaviours and brand performance.
Key discussion points in this podcast episode include:
The reason behind the research that underpins her book 'How Brands Grow 2'
Customer acquisition vs customer retention vs customer loyalty
Why the law of 'Double Jeopardy' is the secret to how brands grow
How to cut through the noise through reach, branding, and messaging
How to build physical availability through presence, prominence, and portfolio
Recommendations for acquiring new customers
The importance of the 'Duplication of Purchase' law
How to simplify a marketer's life in order to build both mental and physical availability in the B2B world…
… plus lots more.
Listen to the podcast in full below.