In this week's review of findings from our COVID-19 tracker, we'll be looking at how businesses have been coping with technology challenges.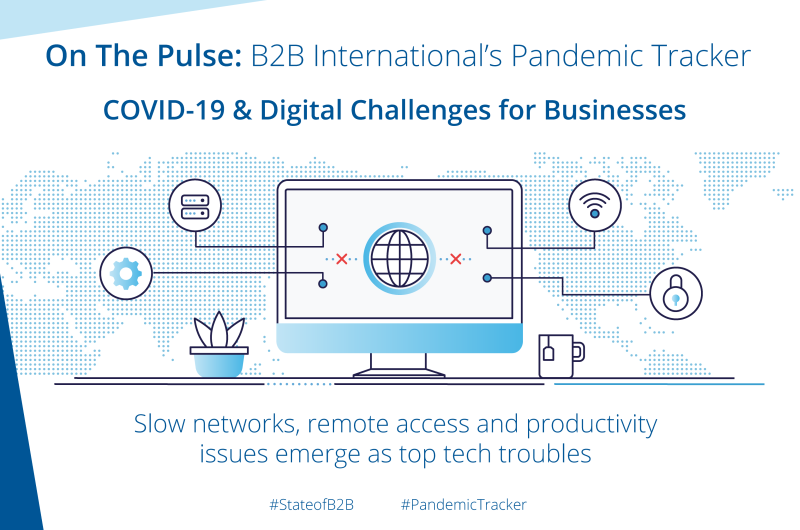 "Stay at home" directives in many economies have forced businesses into adopting more home and remote working practices. As a result, firms are increasingly reliant on technology to keep the metaphorical wheels of industry turning. Microsoft recently announced that daily usage of its Teams collaboration tool had jumped 75% in April compared with figures reported in March. Other players in this space such as Slack and Webex have reported similar rises.
But how smooth has this progression to virtual working been for companies? In our study, we asked technology decision-makers (ITDMs) for their view. What we observe is a steady increase over the past month or so in the proportion of ITDMs that regard this as a very or extremely concerning issue. Last week, 56% of these individuals noted that there were challenges, an increase of 10% over mid-April:
In terms of the types of businesses that have been affected most, the following sectors emerge as being those reporting the greatest trouble over the period of our study so far:
Energy & Utilities (74% "very" or "extremely concerned")
Tech & Telecoms (62%)
Government & non-profit (60%)
Education (56%)
Construction & engineering (55%)
What's notable about many of these industries is their tendency to be larger organizations. In general in our sample, bigger companies cited more considerable problems, with 57% of Enterprises (those with 250 or more employees) reporting strong concerns, compared to just 44% of SMEs (those less than 250 employees). The agility of key IT systems in larger companies seems to be a critical issue.
Monitoring and managing employee productivity among the top tech issues
So, what have the main technology issues been for companies? The chart below shows the principal problems reported to us by ITDMs. It shows a wide range of issues, from providing IT support, maintaining information security, through to being able to provision appropriate hardware to employees: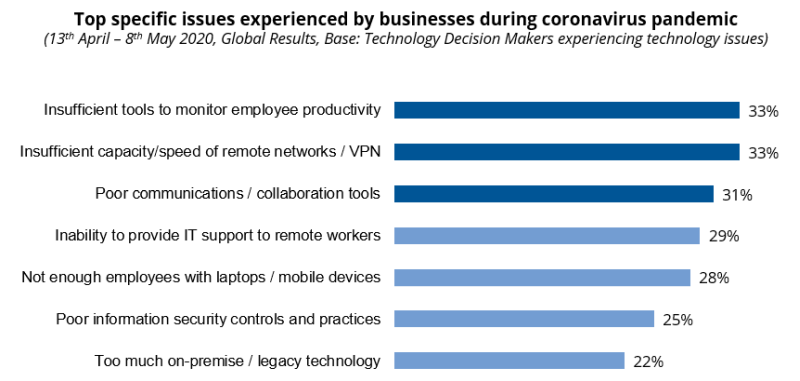 The issue of hardware availability is likely to be a question of budget, but also stock availability – Increased demand, coupled with interruption to production and supply from China and elsewhere in Asia continues to be disruptive. Even tech leaders such as Google have recently been reported as not having a ready supply of laptops to supply contractors and other new workers.
Two of the top 3 issues reported are strongly linked with the issue of collaboration and employee productivity. 31% of firms facing IT challenges reported lacking appropriate communications and collaboration tools. This includes technologies such as remote file sharing, unified communications and web conferencing. And it seems that this issue is felt disproportionately by larger, Enterprise companies: For firms with more than 250 employees, "poor communications / collaboration tools" was clearly the #1 issue, whereas for SMEs, it was among the least prominent problems.
What our survey also shows is that business and IT leaders are also struggling to keep tabs on employee productivity while they're working remotely. What is curious is that while management would like better resolution on employee output, workers paint quite a positive picture. Recent Salesforce Research suggests that 86% of employees report their productivity as being "excellent" or "good" while working remotely, and 62% agree that they "are as productive at work now vs. prior to the pandemic". This disjoint possibly points toward a persistence of trust issues with remote working from some business leaders, and a lack of objective evidence related to home working, at least compared to a baseline of working from a central, dedicated location. We will be digging further into the topic of productivity in future weeks.
Resources to fix today's technology shortcomings: A mixed picture
For the more than half of businesses currently seeing severe technology challenges, solving these will require a mix of ingenuity and monetary resource. With many industries struggling, securing these resources is tough and it seems that technology spending is no exception. Despite technology being a critical enabler of business survival right now, only 32% of firms reported receiving any significant boost to their budgets (i.e. 10% or more) in the past month. Indeed, for 42% of businesses tech budgets remain either static or have even been cut (see chart below):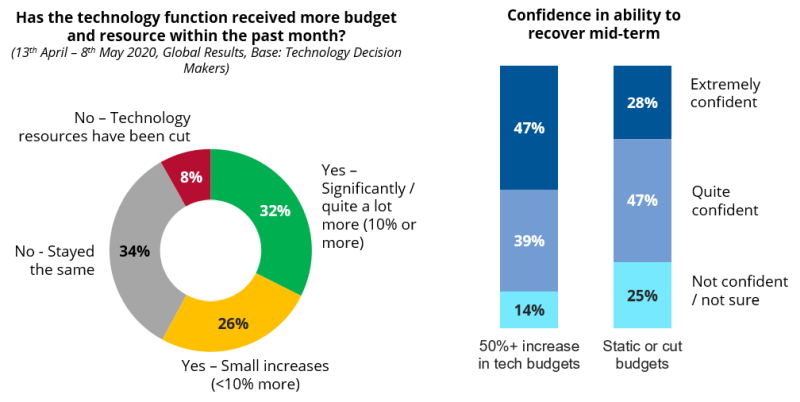 What our analysis also suggests is that prospects for recovery are linked with the resources that are being devoted to technology investment now. That stated, strong increases in confidence to recover post-pandemic only manifest once transformative sums are involved – in this case, 50% increases in IT budgets or more. What this all points to more broadly is that companies will need to think more radically about digital transformation into the future. On the subject of which…
Pivoting to more digital business models: Wide interest, even among B2B firms
Looking beyond immediate challenges, our study shows broad agreement of the need to embrace more digital business models in future. Overall, 65% of decision-makers in businesses that sell to other businesses (i.e. b2b companies) agree that this is an imperative in the medium-term. Moreover, there is wide recognition of this across a range of business sizes and in different regions (see chart below). It is also a rare instance of different generations of business decision-makers expressing a similar viewpoint!

The rewards for embracing digital transformation – especially in terms of developing digital sales channels are clearer now than ever: What our data shows is that b2b firms that have already made investments in eCommerce and which intend to continue building their capability expect better returns for when the recovery kicks in: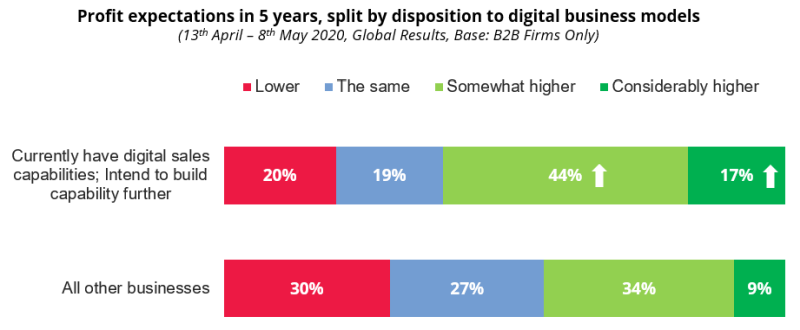 In future blogs in this series, we will study this topic further – in particular, how b2b firms are seeking to redefine their approach to serving customers as a result of the pandemic.
These findings are from the B2B International COVID-19 Tracker. They are derived from n=1,132 interviews with business professionals in SME and Enterprise firms in the UK, France, Germany, USA, Canada, China, Singapore, Australia and Japan. Fieldwork was conducted from 13th April – 8th May 2020.
Watch our recent webinar
Understanding Market Shifts During the Pandemic and the Implications for Your Business