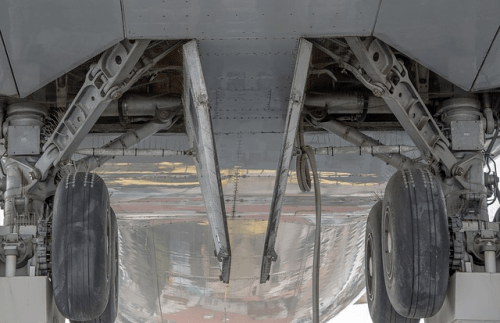 A story in the Financial Times last week caught our eye as it discusses a topic we have wrote about many times before in blogs and articles – having a focused strategy.
The UK tyre industry has been faltering in the face of cheap imports from China, with many factories across the country falling victim to closures. One company that is seemingly bucking the trend is Dunlop Aircraft Tyres. The company has doubled turnover and staff numbers in just eight years.
So, how is Dunlop Aircraft Tyres managing to find success in such a struggling industry? The answer is simple – by focusing solely on their niche. Despite competition from huge conglomerates such as Michelin and Goodyear, the company has managed to carve out a strong position in the market by focusing only on the production of specialist aircraft tyres for military and regional civil airlines. This focus means they were able to win a major contract, supplying tyres for the widely used Boeing C-17 military aircraft, ahead of competition from the likes of Michelin and Goodyear.
Focusing on a niche is one of three generic strategies famously laid out by Michael Porter on how to achieve a competitive advantage. The other two being a strategy focused on differentiation and a strategy focused on cost leadership. The idea being that a company has the greatest chance of success by taking only one of these positions in the market, rather than trying to be all things to all people.
Clearly, this approach has worked for Dunlop Aircraft Tyres who are enjoying great success by focusing on their specialist aircraft tyre niche. What we are beginning to see in other industries however, is that a focused approach such as this might only work for so long. To keep on growing and to help take a company to the next level, it may be necessary to consider taking up additional positions in the market.
Many companies who have succeeded with a focused approach – think airline Ryanair and German supermarkets Aldi and Lidl with their cost leadership strategies – have started to branch out and attempt to find additional positions in the market in order to keep growing. Ryanair, for example, have begun to position themselves on their customer service rather than being a no-frills, low-cost airline. Similarly, Aldi and Lidl have started to focus on the quality of their food as well as the low prices.
All three of these companies are still enjoying great success. Back in July, Ryanair became the first airline to carry over 10m passengers worldwide in a single month. In the case of Aldi and Lidl, industry analysts expect the German retailers to soon hold a combined market share of around 12% – 15% in the UK.
While solely focusing on just one of the three generic strategies laid out by Porter is a great way of carving out a strong position in the market and achieving initial success, it may be necessary to consider taking up additional positions in the market as a company continues to grow.