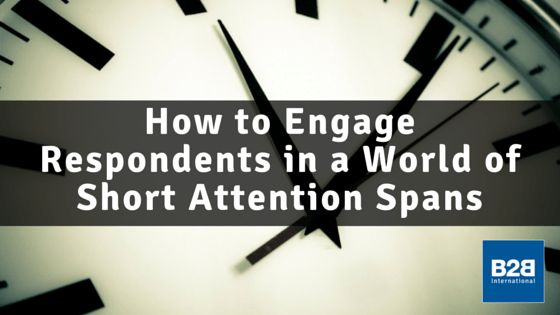 Modern technological advancements have transformed the market research industry. One area that has changed more than any other is data collection. A decade ago, only 10% of data was collected online. Nowadays, 80% of consumer surveys and over 60% of b2b surveys are conducted online.
Consumers and businesspeople are bombarded with messages on a daily basis. This constant stream of messages, pouring in from both personal and professional worlds, means it is increasingly difficult to sort the important from the unimportant.
It comes as no surprise then that attention spans have plummeted. This has become a major challenge for anyone trying to market or sell anything. How do you grab the attention of someone long enough for your message to get through?
As researchers, we are continually faced with the challenge of engaging respondents enough to make them take part in a survey. Below are 6 key ways in which we are able gather information from today's distracted and overwhelmed respondents.
Transforming surveys into exercises, games and workshops, with stimuli such as videos increasingly used.

Fragmentation of interviews

Collecting information from respondents over many short interviews rather than one long interview.

Mixed methodologies

Respondents choose how they complete the survey. If they want to do it online, they do it online. If they prefer a conversation, that is what they get.

More focused surveys

Conducting a series of focused surveys rather than one large overarching survey.

Allowing respondents to complete surveys whenever and wherever they want, such as during their commute or away from their desk.

Self-completion and self-ethnography

These types of surveys can be completed at any time at the respondent's convenience. The influx of smart phones also means that people can now film and photograph their activities as they happen. Self-completion and self-ethnography is a great alternative to asking direct questions which can often frustrate respondents.
In b2b market research especially, the difficulty and cost of accessing respondents is increasing by around 7% per year. Further development of techniques such as the above will be crucial if business market intelligence is to continue to meet clients' needs over the coming years.