Peter Mullarkey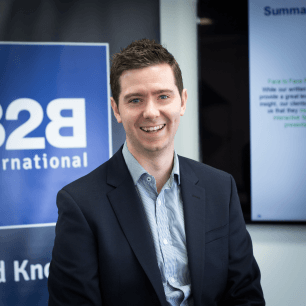 As a Research Manager, my job is to ensure that the client's objectives are met. I work with them from the start of a project until the end deliverable and this includes many different and varied tasks: It starts with a meeting to understand the problem that has brought about the need for research, in which we discuss the target respondents and help guide on the best methodology to take; From this point, I am responsible for the smooth running of the fieldwork, ensuring both validity and quality in the data; Once all the interviews have been conducted and the data inputted, the fun can really start! At this stage it is all about bringing the data to life, interpreting the responses and answering the objectives. Throughout the entire process, I am the day-to-day contact who is always happy to help.

Peter Mullarkey
Research Manager
What is the best thing about working at B2B International?
When we present the findings and provide our recommendations that are then implemented into the future strategies, you know that the hard work has been worth it.
What is the best advice you have ever been given?
You're a long time dead. While quite morbid, it makes you appreciate how precious life is.
What is your favourite place you have visited – and why?
Paris. I get a real buzz from the hustle of a big city, and when that is mixed in with the fantastic art and architecture that Paris has to offer, it really makes it special.
What is your favourite book?
The Da Vinci Code. Linking in with my favourite place, the book brings a real excitement to the history and art of Paris. The fast-paced, treasure hunting theme in many ways mirrors market research, as we search for clues to unlock gateways to answers and great riches.
What is your favourite pastime?
I love technology and photography, and in recent years I have been able to link the two so quickly. I can be using my DSLR, uploading the images straight to my tablet and editing them on the go, ready to relive the moment with friends and family straight away.