The B2B Insights Podcast Channel was created to help marketing and insights professionals navigate the rapidly-changing world of B2B markets and develop the strategies that will propel their brand to the top.
Subscribe today for your dose of exclusive insights from the B2B market experts.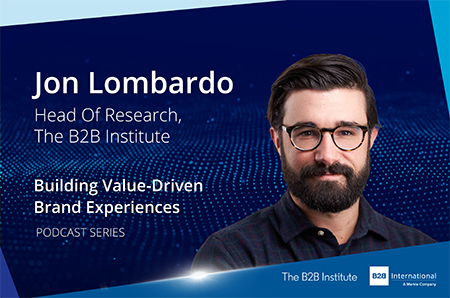 Brands are not reaching the inflated expectations of B2B buyers, according to our 2023 B2B Superpowers Index, and there is a huge opportunity for those who can evolve their brand experiences, at speed and at scale, to stay relevant to increasing buyer needs and expectations.
Changing market dynamics and the economic realities of 2023 also mean that B2B buyers are now accountable for every single dollar they spend, and B2B brands need to work harder than ever before to build trust, win customers and drive loyalty.
This brand-new podcast series, featuring guest insights from world-renowned experts in brand strategy and marketing, looks at how B2B brands can rise to the challenge and build progressive, customer-centric brand experiences that both meet and exceed the expectations of today's B2B buyers.
By exploring the decision drivers that matter most in the B2B purchase journey, we'll dig deep into why some brands are more successful than others and provide insights and strategies on how to develop brand experiences that not only serve the needs of a buyer's organization, but also deliver personal value to the individuals behind a purchase decision.
In the second episode of the series, Nick Hague is joined by Jon Lombardo, Global Head of Research at The B2B Institute, a thinktank funded by LinkedIn. Jon is a true marketing expert, having previously headed up social media at GE where he developed their global social listening program and Global Social Media Center of Excellence. These days, he spends his time managing a team of researchers and academics in the pursuit of uncovering contrarian insights to help B2B marketers gain a competitive edge.
Key discussion points include:
Why maximizing reach is more impactful than maximizing frequency when it comes to advertising (the theory of reach maximalism)

Why lead gen marketers are often paying too much for each lead

A simple formula – creative x media = outcomes – to help brands create effective marketing

The law of brand user profiles and why broader segmentation and targeting is more effective than narrow segmentation and targeting

Why the 95/5 rule becomes the 99/1 rule during a recession

The cash flow funnel concept and how it helps put marketing speak into financial language

How the strategy by subtraction model helps simplify marketing…
…plus lots more! Listen to the podcast episode in full below.