The B2B Insights Podcast Channel was created to help marketing and insights professionals navigate the rapidly-changing world of B2B markets and develop the strategies that will propel their brand to the top.
Subscribe today for your dose of exclusive insights from the B2B market experts.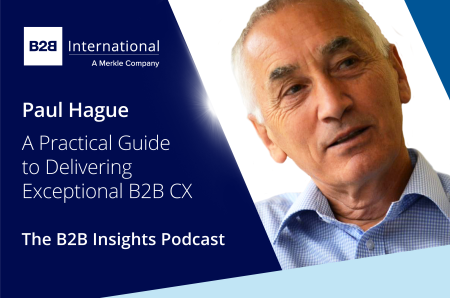 In this one-off special of the B2B Insights Podcast, B2B International's Head of Growth, Nick Hague, welcomes his father, Paul Hague, to discuss the launch of the second edition of their book "B2B Customer Experience: A Practical Guide to Delivering Exceptional CX".
Paul is a serial entrepreneur having set up two market research companies over 5 decades (one of which being B2B International!). Over that time, he's managed more than 3,000 market research projects and has been a strategy consultant to a number of Fortune 500 companies. Now retired, his focus is writing and has numerous books to his name include Market Research In Practice, The Business Models Handbook, and B2B Customer Experience of which Nick co-authored with him and the second edition is launched globally in May of this year.
Key discussion points include:
The importance of customer experience for B2B companies
Where B2B companies get CX wrong and where they get it right
The six pillars essential to delivering great customer experience
What readers can expect from the second edition of B2B Customer Experience
Why technology is fundamental to delivering world class CX in today's world
The biggest challenge companies face with their CX programs…
…plus lots more! Listen to the podcast episode in full below.
The second edition of "B2B Customer Experience: A Practical Guide to Delivering Exceptional CX" is coming out on May 3rd in the UK/EMEA, and May 30th in the US. You can use the code B2BCX20 to get 20% off when purchasing through Kogan Page.