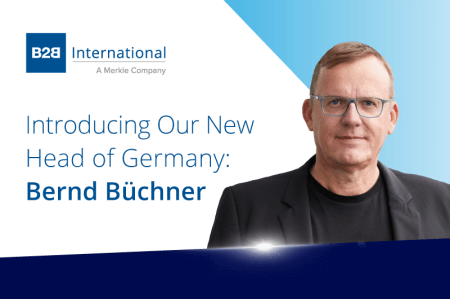 B2B International, a Merkle company, appoints a new "Head of Germany", Bernd Büchner, and expands their coverage across the country by launching a new team in Frankfurt.
We set out on our journey in Germany back in 2014 in the city of Dusseldorf. Since then, and testament to the demand for B2B market research in the region and the hard work and dedication of the team, we have grown exponentially and have launched operations in both Munich, and, very recently, Frankfurt.
To continue on this journey of growth, we have appointed a new Head of Germany who will oversee business in the DACH region. Bernd Büchner has joined the company from Kantar, Germany, where he held the role of Managing Director for 3 years. Prior to that he was part of Kantar Millward Brown, Germany, as Managing Director/CEO for 10 years. He therefore brings with him a wealth of market research experience including both B2B and B2C, and with a focus on C-suite sales, strategic marketing consultation and management.
Matthew Harrison, B2B International CEO, spoke of Bernd Büchner's appointment; "As B2B specialists, Germany is a crucial market for us and has been a key factor in our growth. We know Bernd will enable us to grow even faster thanks to his vast experience of designing research programmes and running research businesses."
Bernd also added "I am very much looking forward to starting at B2B International, a market research agency with unique positioning and expertise across many industries and niche markets. It is also exciting to be a part of the Merkle B2B agency, bringing together the best B2B capabilities to help companies win in a dynamic market."
To speak with Bernd and Team Germany to discuss your business needs and objectives and determine how our research can support, click here.