The B2B Insights Podcast Channel was created to help marketing and insights professionals navigate the rapidly-changing world of B2B markets and develop the strategies that will propel their brand to the top.
Subscribe today for your dose of exclusive insights from the B2B market experts.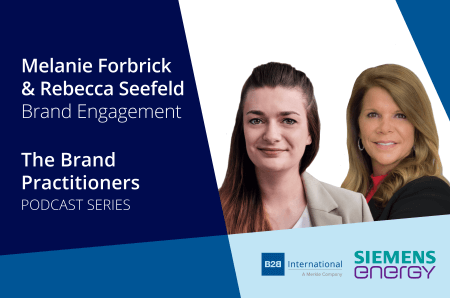 Our recent Brand Masters Podcast Series taught us that effective brand marketing is crucial to driving market share growth over the long-term. The series introduced listeners to key B2B brand building principles from some of the world's leading brand experts.
Now it's time to hear how these principles are being put into action by those responsible for driving brand growth in their own organizations. In this Brand Practitioners Podcast Series, we invite brand leaders from organizations across different industries to discuss how they use brand marketing to drive growth and the role research plays in the overall brand and business strategy.
In this episode, Nick Hague is joined by not one, but two wonderful brand engagement experts: Melanie Forbrick and Rebecca Seefeld from Siemens Energy. Siemens Energy is a new brand, having only been founded in 2020, marking a new chapter in the Siemens history of energy technology. The company is young, and ambitions are high. They are already listed on the DAX 30 and are active in more than 90 countries, employing over 65,000 people. Furthermore, they contribute more than 16% of the world's power generation! If you are looking to develop a successful new brand, this is the podcast for you…
Key takeaways from our discussion with Melanie and Rebecca include:
The importance of branding in B2B markets
How they created a new B2B brand, and the challenges they faced along the way
The role employer branding plays in attracting a diverse workforce
How Siemens Energy positioned their brand to be relevant in both the legacy and new/green energy spaces
How Siemens Energy are shaping the future of the energy industry, aligning with their strapline "Let's make tomorrow different today"…
… plus lots more! Listen to the podcast below.