The B2B Insights Podcast Channel was created to help marketing and insights professionals navigate the rapidly-changing world of B2B markets and develop the strategies that will propel their brand to the top.
Subscribe today for your dose of exclusive insights from the B2B market experts.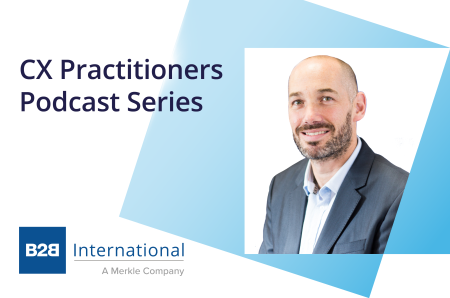 With customer experience (CX) a number 1 priority for most B2B companies in 2021 and beyond, we wanted to learn more from those who have put their customers front and centre through award winning CX programs, and how this has transformed their businesses. Join our research directors as they talk to CX experts to understand how and why they prioritize CX within their business strategies in our latest podcast series; The CX Practitioners.
#1: Shaun Myers, Brenntag
In this first episode we talk to Shaun Myers, Director of Supply Chain & Service at Brenntag. With close to 13 Billion Euros in revenue and over 17,000 employees worldwide, Brenntag are a true leader in the global chemical sector. Find out where their CX journey began, the challenges faced along the way, and the results of the program so far.
#2: Lisa Best, Kemira
In this second episode we talk to Lisa Best, Customer Communication Manager and CX Lead at Kemira. Kemira is a global chemicals company with annual revenue of EUR 2.7 billion and over 5,000 employees. Hear Lisa's top tips for embarking on a new CX program, how they achieved a substantial increase in NPS, and the importance of external customer communications.
#3: Laura Lee, Molson Coors
In this third episode we talk to Laura Lee, Strategy and Change Director at Molson Coors; the third largest brewer in the world with revenue of over $10 billion. Whilst the hospitality sector has been dramatically impacted by the pandemic, this has not stopped Molson Coors putting their customers front and center.
#4: Christina Colby, Guidewire
In this fourth episode we talk to Christina Colby, the Chief Customer Officer (CCO) at Guidewire; a provider of cloud-based P&C (property and casualty) insurance software enabling business to streamline processes. Find out how the role of CCO truly gives a customer a seat at the table, and how it has enabled Guidewire to create a superior customer experience.
#5: Jo Goossens, Etex
In this fifth episode we talk to Jo Goossens, Strategic Marketing Manager at Etex; an International building materials company with over 13,000 employees globally and revenues of nearly EUR 3 billion per year. Find out why customer journey mapping has been pivotal to the success of their CX programs and why internal engagement is so important in driving CX initiatives.
#6: Peter Seaman, Finning
In this sixth episode we talk to Peter Seaman, Customer Experience & Marketing Manager for Finning UK & Ireland; the world's largest dealer for Caterpillar. Hear Peter's top tips for implementing successful CX programs, how evoking emotion can lead to customer loyalty and why internal collaboration across different departments is so important.