The B2B Insights Podcast Channel was created to help marketing and insights professionals navigate the rapidly-changing world of B2B markets and develop the strategies that will propel their brand to the top.
Subscribe today for your dose of exclusive insights from the B2B market experts.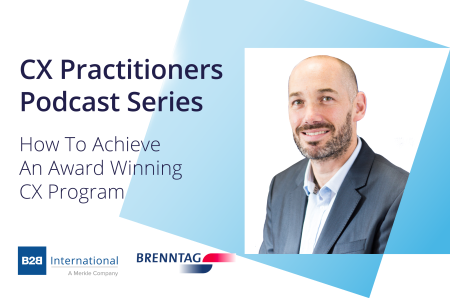 With customer experience (CX) a number 1 priority for most B2B companies in 2021 and beyond, we wanted to learn more from those who have put their customers front and centre through award winning CX programs, and how this has therefore transformed their businesses. Join our research directors as they talk to the CX experts to understand how and why they prioritize CX within their business strategies in our latest podcast series; The CX Practitioners.
This week our Co-Founder and Head of Growth Nick Hague is joined by Shaun Myers, Director of Supply Chain & Service at Brenntag on the podcast. Brenntag are a Global Chemical & Ingredient Distribution company founded in 1874 in Berlin, with operations in more than 77 countries worldwide. With revenue of close to €13 billion and over 17,000 employees worldwide, they are a fundamental cog in the global chemical sector.
Find out where the CX journey began for Brenntag and how they implemented their award winning CX program plus…
Top tips for those looking to embark on implementing a CX program

The importance of journey mapping

Ways in which Brenntag significantly increased their NPS score

The catalysts for positive change within Brenntag

Key challenges Brenntag faced throughout the implementation of the program and how they overcame them

How they have kept the topic of CX at the forefront of employees' minds and kept momentum going…
… and lots more.
Listen to the podcast in full below.