The B2B Insights Podcast Channel was created to help marketing and insights professionals navigate the rapidly-changing world of b2b markets and develop the strategies that will propel their brand to the top.
Subscribe today for your dose of exclusive insights from the b2b market experts.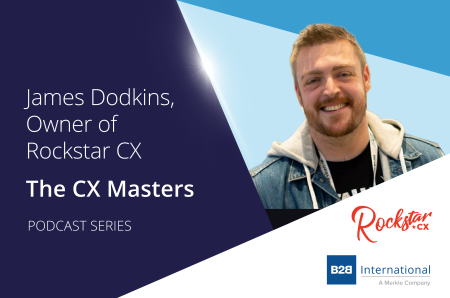 With customer experience (CX) a number 1 priority for most B2B companies heading into 2021, we wanted to learn more from the CX experts in this latest B2B Insights Podcast series: The CX Masters.
Join our Head of Growth and Co-Founder, Nick Hague, as he takes a deep dive each week into the world of CX, to find out how you can create a superior customer experience, and in turn increase customer loyalty and drive greater profitability.
This week Nick is joined by James Dodkins, Owner of "Rockstar CX"; a company providing CX training alongside his world-renowned international keynote speeches. He truly is a CX Rockstar, launching his own CX clothing range, best selling author of 4 books and heading up This Week In CX on Amazon Prime. He was also named the UK's number one CX influencer by Customer Experience Magazine. For a podcast like no other listen today!
Key Takeaways From This Podcast:
How James became a CX expert; his story from a guitarist in a band to the "Rockstar of CX"

How important it is for specialist teams within large corporates to work together to achieve customer satisfaction

How important employee engagement is in order to achieve customer centricity

Why CX is currently stagnating even with a wealth of CX experts across our networks

Which is James' favourite "CX Hack" from his 27 easy CX improvement hacks

The power of bad customer experiences; how can these in turn increase NPS scores

The importance of NPS as a metric

CX trends over the next few years

What advice James would give to companies aspiring to achieve a world class CX…
…Plus lots more! Listen to the podcast in full below.