The B2B Insights Podcast Channel was created to help marketing and insights professionals navigate the rapidly-changing world of b2b markets and develop the strategies that will propel their brand to the top.
Subscribe today for your dose of exclusive insights from the b2b market experts.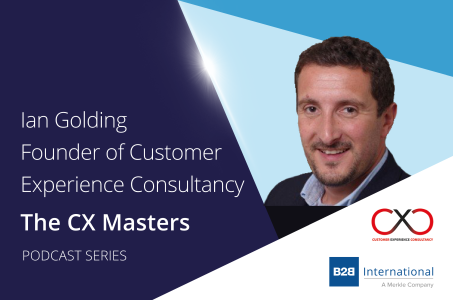 With customer experience (CX) a number 1 priority for most B2B companies heading into 2021, we wanted to learn more from the CX experts in this latest B2B Insights Podcast series: The CX Masters.
Join our Head of Growth and Co-Founder, Nick Hague, as he takes a deep dive each week into the world of CX, to find out how you can create a superior customer experience, and in turn increase customer loyalty and drive greater profitability.
This week, Ian Golding joins Nick. Ian is an internationally renowned speaker and blogger on the subject of customer experience and was one of the inaugural board members of the CXPA (Customer Experience Professionals Association). Furthermore, he was the first person to become an Authorised Resource and Training Provider for the CCXP accreditation in 2015, and now runs his own Customer Experience Consultancy.
Suffice to say, he a leading expert in the CX field, and has perhaps provided training and mentoring to more CX Professionals than anyone else in the world! If learning more about customer experience is top of your agenda, then this is the podcast for you!
Key takeaways from this podcast:
How Ian became the CX expert he is today; his own personal CX journey

The major shifts he has seen in the CX industry

What pieces make up the "CX jigsaw puzzle"

Which sectors provide the worst, and best, customer experiences

Why companies are struggling more with responsiveness and evolution, and therefore stalling with progress in the CX space

What key skills should CX professionals develop more to ensure they make an impact

What future CX trends look like in 2021 and beyond…
…Plus lots more! Listen to the podcast in full below.