The B2B Insights Podcast Channel was created to help marketing and insights professionals navigate the rapidly-changing world of b2b markets and develop the strategies that will propel their brand to the top.
Subscribe today for your dose of exclusive insights from the b2b market experts.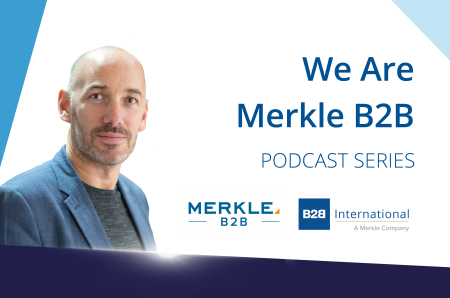 B2B marketing is undergoing a fundamental transformation. Today's business buyers and influencers expect a consumer-like experience. They want it to be personal, relevant, convenient and more valuable than ever before, all delivered at the right time and on the platform and channel of their choice. Their expectations are non-negotiable and for most businesses, this is impossible to meet…. Until now!
On 1st September Merkle B2B was born; a consortium of world-class B2B agencies, purpose built to deliver the world's first fully integrated B2B solution, and we are excited to be a part of it!
We wanted to enable our audience to learn more about this opportunity and what lies ahead for the B2B industry. Join Nick Hague, our Head of Growth, as he discusses the Merkle B2B journey with each of the Merkle B2B business leaders in this exclusive podcast series.
#1: A Conversation With Michael McLaren
In the first episode of our new "We Are Merkle B2B" series, Nick is joined by Michael McLaren; Global CEO of Merkle B2B.
Michael is a successful and dynamic business leader who has held a variety of global executive roles in the U.S., Australia, Singapore, and Japan. He has extensive experience managing integrated brand communications and over the years has worked with key global clients, including IBM, Microsoft, Intel, and Cisco.
Learn more about Michael's journey to Global CEO, the concept behind Merkle B2B, current challenges in B2B and how the B2B decision-making unit is changing.
#2: A Conversation With Christoph Becker
In the second episode of our new "We Are Merkle B2B" series, Nick is joined by Christoph Becker, Global CEO & CCO at gyro.
Christoph has been the driving force behind the reinvention of B2B marketing, and in his role as both CEO and CCO, has grown gyro into one of the largest, most successful B2B agencies in the world over the last 10 years. He has spent nearly 30 years building brands and creative cultures around the globe and was even inducted into the ANA's prestigious B2B Hall of Fame.
Learn more about what makes gyro different, the importance of culture, examples of recent emotions-driven B2B campaigns, and why Merkle B2B is such an exciting opportunity for the B2B industry.
#3: A Conversation With Bob Ray
In the third episode of our new "We Are Merkle B2B" series, Nick is joined by the hugely experienced Bob Ray, CEO of Merkle DWA.
Bob started working as a client-side marketer for Fortune 500 tech companies, before moving to another Merkle B2B brand, gyro, where he led them for 8 years. He then joined DWA in 2012 as President of Americas, before taking the reigns as Global CEO in 2016.
Learn about DWA's transition from traditional media company to early adopter of digital, how digital can open a world of opportunity for B2B brands, and advice for CMOs looking for agency support with their marketing attribution and ROI measurement.
#4: A Conversation With Ryan Vong
In the fourth episode of our new "We Are Merkle B2B" series, Nick is joined by Ryan Vong, Founder and CEO of Digital Pi.
Ryan has over twenty years of marketing experience, helping companies transform their digital marketing strategy into execution and results. He is also a pioneer in marketing automation and was one of the first Marketo Champions.
Learn how Digital Pi created a bombproof culture despite never having physical offices and the business challenges faced while achieving rapid growth.
#5: A Conversation With Matt Harrison
In the fifth and final episode of our new "We Are Merkle B2B" series, Nick is joined by our very own Matt Harrison, CEO of B2B International.
Matt joined B2B International in 2001 with a background in International Management and very quickly started the transformation of B2B International into a global company by setting up offices in China, the US and Germany. Since then, the company has evolved massively and is now part of Merkle B2B with over 1,000 B2B experts across 47 different locations.
Learn more about Matt's story as he grew the company to become the global leader in B2B market research.