The B2B Insights Podcast was created to help marketing and insights professionals navigate the rapidly-changing world of b2b markets and develop the strategies that will propel their brand to the top.
Subscribe today for your monthly dose of exclusive insights from the b2b market experts.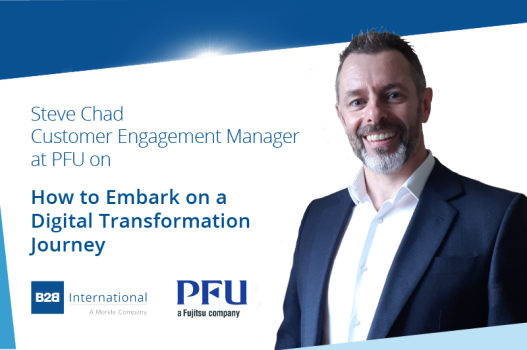 This week on the B2B Insights Podcast, I am joined by Steve Chad, a Customer Engagement Manager at PFU, a Fujitsu company. We will be discussing how you can embark on your digital transformation journey and ensure the results effectively meet your business goals and objectives.
In our recent COVID tracker, we have seen a massive shift towards digital transformation with two-thirds of businesses stating that they are building more digital-centric business models. However, 35% of organizations do not have a clear plan for digital transformation and it is evident that B2B organizations have been slower on the uptake than B2C counterparts.
As a result I wanted to bring in an advocate of digital transformation to assist those companies who are perhaps struggling to embark on their digital journey, potentially do not see the value in the added investment, or those who have digital transformation on their priority list but are unsure as to how to execute it during these challenging times. We will also be discussing:
The benefits of digital transformation
The best starting point for your journey
The biggest hurdles you may face, whether actual or perceived
What a digital transformation roadmap could look like
The importance of organizational intelligence and digital's role within it
Listen to the full podcast below.
To learn more about digital transformation and organisational intelligence, read the full Fujitsu Image Scanners Organisational Intelligence Research Report 2020.
If you are seeking more in depth insights into the digital future for B2B organizations, download the recording of our recent webinar with B2B International and Isobar where we explored some exclusive research findings and provided suggestions as to how you can create that ideal customer experience.
Recent Webinar | Download The Recording
The Future Is Now – The Importance of Digital Transformation for the B2B World