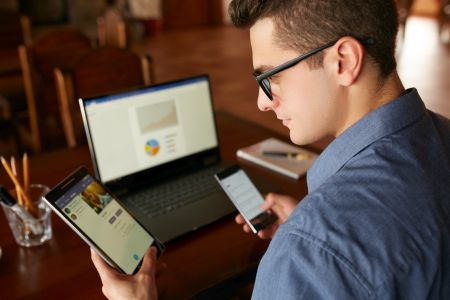 73% of millennials in the workforce are now involved in either influencing or making buying decisions for their companies.
B2B brands need to sit up and take notice – this new wave of millennials in the workforce have a much greater demand for digital experiences than previous generations. And most importantly, they have sky-high expectations when it comes to interacting with brands online.
For example, millennials are over twice as likely to use online sources to learn and become aware of brands compared to boomers. And 51% of millennials agree that digital purchasing channels should lead to more personalized solutions, compared to 33% of boomers.
It's crucial that B2B brands invest in their digital experience now to make sure they're meeting the needs of these digital-first buyers. Failure to invest means they risk falling further and further behind their competitors.
So what can B2B brands do to start this digital transformation journey? Which areas should brands prioritize? Where are the biggest opportunities? What is the business impact of investing in digital? And what are the key considerations to be aware of?
Listen to our Digital Transformation webinar where we guide attendees through the latest research and provide expert analysis and advice on how B2B brands can better understand the decision-makers of today (and tomorrow!) and design winning digital experiences that both meet and exceed their expectations.
Recent Webinar | Download The Recording
The Future Is Now – The Importance of Digital Transformation for the B2B World