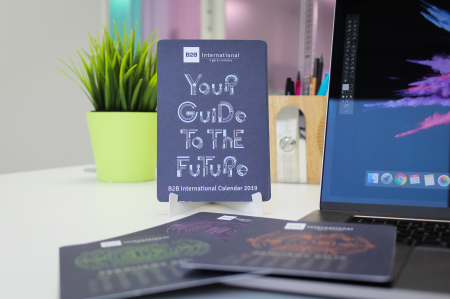 Series Introduction: 'Your Guide to the Future'
Here at B2B International, we're always thinking of the latest innovations and emerging 'megatrends' shaping our clients' industries and markets.
So, for every month in 2019 we decided to delve a little deeper into each of these trends and produce a mini-guide looking at what it is, how big it will be and the opportunity it presents for b2b companies.
Our complete 'Guide to the Future' is also available as a handy desk calendar (see above) – click here for details on how to get your hands on one.
This month's topic is wearables and biosensors. Enjoy!
What is it?
Why carry your technological gadget, when you can wear it? That's the premise behind wearables – technology gadgets that are worn on the body as accessories or implants. A wearable device often uses biosensors in order to track a user's vital signs or data related to health and fitness, location or even his/her biofeedback indicating emotions. Wearable devices work by using short-range wireless systems such as Bluetooth or local Wi-Fi setups.
How big will it be?
The global smart wearables market is predicted to grow to a total value of over $US27 billion by 2022 (Source: CCS Insight) and expected to be one of the most disruptive inventions of the century.
What's the opportunity?
While the majority of today's wearable devices find their main application in the consumer sector (think of smart watches, smart glasses, smart jewellery and fitness trackers), B2B companies are looking into ways of harnessing their benefits in industrial and commercial surroundings. Some of the most promising B2B applications are:
Tracking employee health in high risk environments (e.g. oil rigs, mines).
Increasing fulfilment speed in logistics by warehouse workers receiving navigation instructions on the go.
Field workers obtaining real-time data, training and job instructions via the use of smart helmets, which include an augmented reality helmet visor.