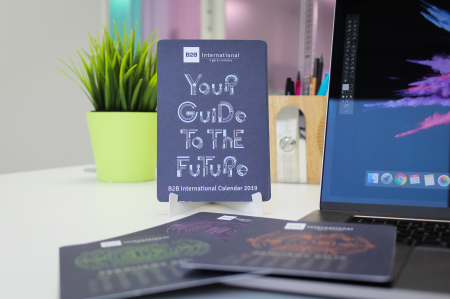 Series Introduction: 'Your Guide to the Future'
Here at B2B International, we're always thinking of the latest innovations and emerging 'megatrends' shaping our clients' industries and markets.
So, for every month in 2019 we decided to delve a little deeper into each of these trends and produce a mini-guide looking at what it is, how big it will be and the opportunity it presents for b2b companies.
Our complete 'Guide to the Future' is also available as a handy desk calendar (see above) – click here for details on how to get your hands on one.
This month's topic is 3D and 4D printing. Enjoy!
What is it?
3D printing is the process by which digital models are turned into 3D objects by producing material which is added together in layers.
As the progression of 3D printing, 4D printing is a type of additive manufacturing, which produces structures that can transform in a pre-programmed way in a response to a stimulus (i.e. heat, water, light) over time.
How big will it be?
The 3D / 4D printing market is projected to witness a compound annual growth rate of 30.20% to reach a total market size of US$22.200 billion by 2022, from US$5.933 billion in 2017 (Source: Reuters).
What's the opportunity?
The possible applications of 4D printed objects are manifold and cover many industries:
Plumbing: Self-repairing water pipes or pipework that changes shape in relation to water flow.
Construction: Building components that will automatically assemble themselves, and materials that will grow, self-repair and adapt to the environment.
Transport & Logistics: 3D objects transported in 2D and self-assembled on site, making their transport more efficient.
Aviation: Airplane wings that can transform with wind speed, and jet engine components that will adjust itself automatically to control the airflow used to cool the engine.
Automotive: Aerodynamic car parts such as wings that can automatically adjust to different weather conditions, road conditions and speed to provide maximum downforce.
Medicine: Doctors will use self-transforming components in surgeries to minimise the procedures involved, and self-transforming implants that will change shape and conform over time as the body changes and heals.
Clothing & Footwear: Applications include materials that will transform to different weather conditions, military uniforms that change colour depending on the environment and sport shoes that adapt to different sports and activities.
Conclusion
3D printing is set to have a massive impact on the world and is already transforming many traditional manufacturing processes in both b2c and b2b industries. The technology offers cheaper, quicker and simpler manufacturing with unlimited customisation options and the ability to create complex products and infrastructures at scale. In fact, companies are even looking at using giant 3D printers to build entire cities in the future.
4D printing takes things to a whole new level by introducing the concept of smart materials that automatically change structure as they react to external stimuli and adapt to environmental conditions over-time. Organisations across many industries are investing heavily in the technology as it promises to completely overhaul how materials are made and subsequently used.