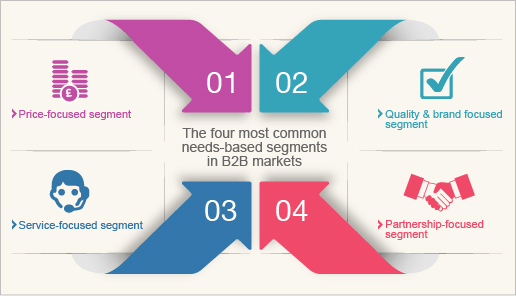 Segmentation is at the heart of marketing. To satisfy the needs of all your customers, you need to understand how their specific needs differ from one another. In B2B markets, there are far fewer behavioural and needs-based segments to work with compared to consumer markets. On average, a b2b study will reveal only 3 or 4 distinct segments. The four most common needs-based segments in B2B markets are listed below:
Price-focused segment

Favour a more 'transactional' way of doing business, placing less importance on 'extras' in order to keep costs down.

Quality and brand-focused segment

Seek the best possible product or service and is willing to pay a premium for it.

Service-focused segment

Place high importance on customer service, such as aftersales care and fast, reliable delivery.

Partnership-focused segment

Typically represents a company's key accounts, this segment places huge importance on trust and reliability with the supplier.
To find out more about b2b market segmentation, why not check out our white paper on market segmentation in b2b markets?