The presentation of the findings of market research is the most important aspect of the researcher's work. There is little value if hours and pounds of valuable research is clumsily reported, poorly presented and left to moulder in a company's files. It is possible, however, to create a clear and lasting impact with your data, and the detailed advice in this practical book will help you: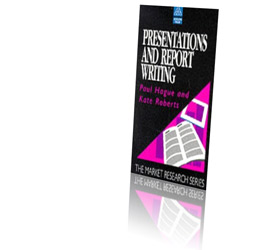 Cope with a mountain of data
Get the report's structure right
Use text, tables and diagrams correctly
Achieve the right balance between text and illustration
Improve the design of your reports
Polish your spoken presentations
Speak to groups with less trepidation
Use visual aids to increase your presentation's impact
This vital guide to the specialist skills needed by successful market researchers will help ensure you achieve maximum impact when presenting your data.
Published by Kogan Page