Inspiration & advice from successful entrepreneurs & fast growing UK companies.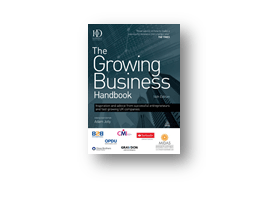 Drawing on a wide range of professional expertise and commercial experience, this new 14th edition of The Growing Business Handbook is full of practical advice and concrete suggestions about how to maximise the upsides and control the downsides, even in the tough trading conditions that many organisations – large and small – are currently experiencing.
All told, there are over 40 experts who have written on the different challenges that entrepreneurs, innovators and directors and likely to face in growing and developing their business through 2012 and beyond.
To download individual chapters (in pdf), please click on the links below.
| # | Chapter Name | eBook |
| --- | --- | --- |
| 1 | Planning for growth | pdf |
| 2 | Ideas and innovation | pdf |
| 3 | Build the brand | pdf |
| 4 | People and performance | pdf |
| 5 | Cash flow, working capital and cost control | pdf |
| 6 | Platforms for growth | pdf |
| 7 | Leading growth | pdf |
| 8 | Structures for growth | pdf |
| 9 | International expansion | pdf |
| 10 | Growth capital | pdf |