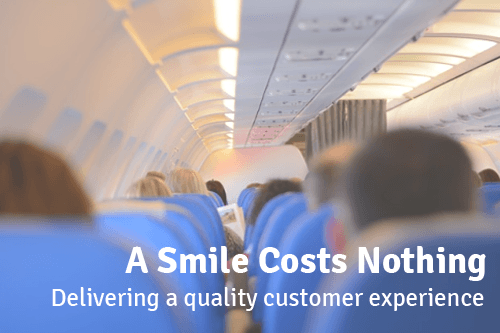 There is something about international air travel that focuses the mind on service. Perhaps it is the many hundreds of dollars we must pay for a ticket; maybe it is because there is a fair amount of tension around the event.
At its most basic, the service provided by airlines gets you from A to B safely and hopefully on time. However, it is the bits in between that matter and that make the customer experience. These bits and pieces add up. For a start, the airlines see their responsibility as only delivering us from airport to airport and not from A to B. Very few airlines, and then only for business class customers, take care of customers from their home right through to their final destination using limos and chaperones.
The journey for most of us starts at the check-in desk where we are automatically on the back foot if we are treated brusquely and with no friendly smile. Those of us who are lucky enough to have access to a business lounge may find that the seats are all taken and the only freebies are dry biscuits, processed cheese, and iced tea. Again, at the start of this adventure, such an experience gives us that sinking feeling.
Once on board there is a chance for redemption but, depending on who we are flying with, it won't happen. Instructions are barked through the tannoy in an endless stream. "Sit down", "keep your coats on your knees", "make sure you watch the safety video". Stewards and stewardesses march up and down the aisle sternly checking that our seats are upright, our bags are under the seat in front, and our seat belts are firmly closed.
You would think that Americans would be good at this. They virtually invented flying. They virtually invented customer service. However, something has happened which prevents them delivering a good experience when the two are put together. In the global customer satisfaction rankings of the top international airlines, as announced by Skytrax, the top 20 places are taken by Asian and European brands. The first American airline (Virgin America) comes in at rank 29 while the rest of the American brands are scattered throughout the remaining 70 rankings.
So what is going wrong? Customer service which delivers customer satisfaction is all about culture. A company that is successful at delivering satisfaction has a real desire to please and not just follow a process. It must be that accountants, and not customer service people, are running US airlines nowadays. If we look at the profitability of airlines around the world (and exclude the low-cost airlines) we see that in 2013, three American airlines topped the global rankings for net profit. It was at the expense of good customer satisfaction ratings.
Rank of the most profitable global airlines in 2013 and their customer satisfaction ranking
| | Net profit rank 2013 | Passenger satisfaction rank 2013 |
| --- | --- | --- |
| Delta | 1 | 45 |
| American | 2 | 81 |
| Japan | 3 | 25 |
| United | 4 | 57 |
| Lufthansa | 5 | 11 |
| Emirates | 6 | 1 |
[Sources]
Net profit rank for 2013
Passenger satisfaction rank for 2013
These profitability rankings are based on the absolute net profits made by the companies and not the profit per mile of passengers carried. The reasons why Delta, American and United do so well is because they carry so many (miserable) passengers. However, it is possible to make money and make passengers happy at the same time. Japan airlines, Lufthansa and Emirates do it. What's more, they continue to grow.
Some years ago we presented the findings of a customer satisfaction survey to a manufacturer of polymers. These products were of a specialty nature and used as components in a wide variety of items from computers to cars. The company's low satisfaction score was pulled down by poor customer service. It wasn't that the customer service representatives were failing; there simply weren't enough of them. The CEO of the company took exception to the results as if they were a personal criticism. He challenged the findings with the question "why if our scores are so bad are we doing so well?". The company had just delivered its most profitable returns to date.
About a year later we heard on the grapevine that the aggressive CEO who had given us a roasting had left the company. Revenue and profits had taken a dive and the company was up for sale. It was clear that the cost-cutting, especially in customer facing staff, had created long-term problems for this company despite yielding temporary profits. The company had failed to address the important principle of always having the long-term future of the company in mind.
Here is a list of some of the most frequently mentioned factors that drive overall satisfaction in airlines and other businesses:
Smiling and being friendly – at all touchpoints
Staff empowerment so problems can be solved quickly and fairly
Responding quickly to customer service requests
Having frequent contact (and at the right frequency) with customers
Understanding customers' needs
Having people available when they are needed
Having knowledgeable members of staff
Sure, planes must leave and arrive on time. It also helps to have good food, a good choice of films and plenty of knee room. However, friendly and empowered staff can go a long way to delivering a high customer satisfaction score and, in the general scheme of things, a smile costs nothing.
Have you experienced airline customer service that delights or disappoints? Let us know in the comments section below.