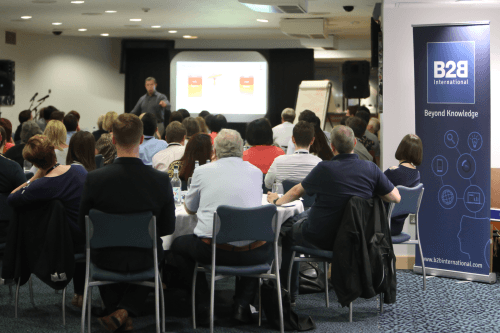 Last week saw B2B International's first ever company-wide conference. Teams from China, the USA and Germany all jetted in to the UK to spend Thursday and Friday in Manchester with the staff from Bramhall HQ and the team from our London office.
Thursday was spent at one of Manchester's most famous venues – Old Trafford, home of Manchester United Football Club. In addition to discussing B2B International's growth over recent years and its plans for the future, employees also benefitted from two motivational speakers – Michael Finnigan of i2i and John Shiels of Manchester United Foundation, both of whom have experienced great success through a focus on quality, commitment, positivity and communication. The team was also treated to a lunchtime guided tour of Old Trafford stadium and an evening meal at The Lowry restaurant.

Friday morning saw everyone undertake interactive group exercises in the city centre, exploring such topics as branding, customer experience and pricing. With the research conducted, the findings and recommendations were quickly put together and reported back to the other teams during an afternoon at Manchester's beautiful Midland Hotel.
So, what did we take away from the two days? Well, beyond the obvious positive teachings and messages, the spirit of teamwork was evident. Everyone relished the opportunity to spend a day or two away from the office, both learning and mixing with their colleagues from other departments and offices around the world, and we feel certain this will only benefit the company and its clients as we move forward together as a more cohesive, positive and stronger team!