Case study: Market Sizing Research
MTI (Manufacturing Technology, Inc.) is a leading provider of joining and welding machines, and contract welding services. In its portfolio are machines for Friction Stir Welding (FSW), a process for joining metals through the application of rotary heat. The advantages of FSW over traditional forms of welding are its efficiency (or weld strength), lack of consumables required and its ability to weld dissimilar materials (e.g. aluminium and steel).
MTI's overall research objective was to understand the size of the global FSW market and key industries and regions, within which our Client could expect to increase sales and market share.
Of critical importance to the study was developing a trend analysis of the market size, in order to map the short-, medium- and long-term opportunities for MTI.
B2B International conducted a research programme with two key components:
Demand-side market size: Assessing the market from the bottom up, including current users of Friction Stir Welding to calculate the market size, and non-users to determine their interest in FSW and potential future usage.

Supply-side market size: Assessing the route to market, i.e. the manufacturing and distribution channel, leading to a top-down market size. Synthesising and combining internal MTI intelligence with insights from desk research, industry experts and welding associations enabled us to map the market from the supplier's perspective.
The three important calculations to arrive at in market sizing are as follows:
TAM (Total Available Market): the potential or notional market size.

SAM (Served Available Market): the market that has invested in the product or service.

Client's market share: the market which our Client has already served.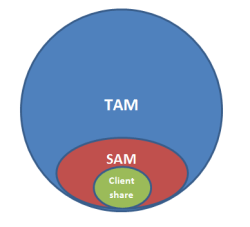 To learn more about market sizing, take a look at our market sizing research page.