Case study: Branding research
Founded by S. Duncan Black and Alonzo G. Decker, BLACK+DECKER invented the first portable power tool in 1917. At the forefront of innovation, the BLACK+DECKER drill was used by NASA on its Apollo space mission, and the technology later led to the development of the cordless miniature vacuum cleaner known as the DustBuster.
Since being established in 1910, BLACK+DECKER has today become one of the most well-known brands across the world, recognised for its diverse product range. The recent global brand tracker conducted by B2B International revealed that in the U.S. alone, between 90% and 96% of consumers surveyed are aware of the brand in each of the product categories tested: power tools, outdoor equipment, handheld vacuums and small domestic appliances. The brand also enjoys high penetration with between 35% and 70% of consumers surveyed owning at least one of these BLACK+DECKER-branded products.
BLACK+DECKER is seen as a universal brand, catering for all ages and spanning numerous products that help consumers with a variety of tasks in their homes. BLACK+DECKER is also one of very few brands that evokes all senses, from the feeling and the sound of the power of its DIY tools and outdoor equipment, to the smell and taste of food and beverages processed in its small domestic appliances, to the visual achievements having used BLACK+DECKER products – all of which drive an emotional connection to the brand. BLACK+DECKER is convenient, accessible to everyone and easy to use.
Following qualitative research conducted by B2B International, brand consultancy Lippincott redesigned BLACK+DECKER's identity which was announced earlier this year. It was agreed that BLACK+DECKER required a fresh and more modern look that would support and unify its many products under one core umbrella theme. The redesign oozes simplicity, leveraging the brand's universal reach and goals.

BLACK+DECKER's old and new logos
The brand identity concept was tested by B2B International in an online survey spanning various markets and using sequential monadic design, i.e. all respondents seeing all brand identity themes in randomised order so as to maximise the sample and eliminate order bias. Word associations with the preferred brand theme included current brand values such as "well-known", in addition to new associations that would contribute towards the revitalisation of the brand, such as "modern" and "simplicity". The bold and simple look is memorable and scalable and attracts a younger generation – the future users of the brand.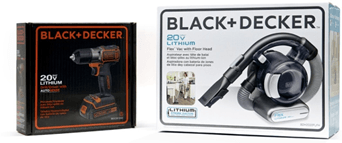 New BLACK+DECKER packaging
The research findings gave BLACK+DECKER the confidence to proceed with the new identity which supports its brand strategy moving forward. A hundred years ago, little did Messrs. Black and Decker know just how successful their brand would become.
To learn more about branding research, take a look at our branding research page.