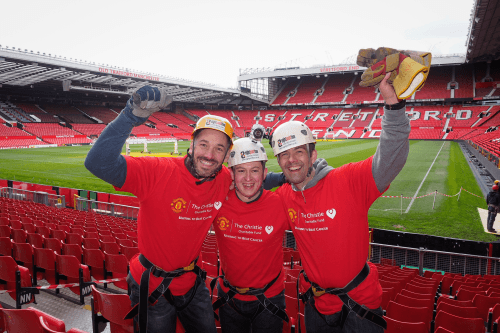 This Sunday saw three brave individuals from the B2B International team throwing themselves off the roof of Manchester United Football Club's Old Trafford stadium. Dan Fallon, Kyle Cockett and Nick Hague took part in a 140-foot free fall abseil at this famous Manchester landmark. Of course, it wasn't just to demonstrate that they have nerves of steel (although, watching the video afterwards, they clearly do!); it was principally to raise money for a fantastic cause – The Christie charitable fund, which has been our corporate charity of choice for the past two years.
Thanks to Dan, Kyle and Nick, this event alone saw B2B International raise in excess of £1,000 for the continued fight against cancer. A big thank you to all the people who generously donated money, and well done to the Intrepid B2B Three. We can't wait to hear what you plan to do next…!
To watch the video on our YouTube channel, click below.