Matthew Cummings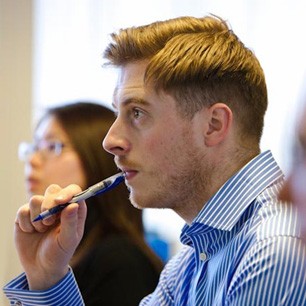 My role is to head up the operations and fieldwork for the company and it is one that is quite varied. My day-to-day tasks incorporate: project management for the data processing unit, including allocating of resource for scripting, online portals and data tables, etc.; ensuring the timely completion of projects; managing KPIs; overseeing the management of our CATI unit, ensuring that capacity and capability is continually planned; and close liaison with external panel partners for online projects.
A key goal of mine is to continue to drive operational improvements through the introduction of new procedures whilst ensuring a tight control on operational costs.

Matthew Cummings
Head of Operations
What is the best thing about working at B2B International?
There are many 'best' things about working here.  In particular, I like where the company is going and the plans they have for the future; that is exciting to be a part of.  I'm looking forward to seeing how we develop over the next five years.
What is the best advice you have ever been given?
The best advice I have been given is to get the best education that you possibly can, to always continue to learn in whatever you do and to realise that you are never too old to further your own development. 
What is your favourite place you have visited – and why?
This is a really tough one for me to answer as I've had a few of those 'wow' moments when visiting different places: the Sydney Opera House and Harbour Bridge were very impressive, Fiji was idyllic and Las Vegas is up there as the most exciting place I have been to. My favourite place overall would probably be on the Bavarian/Austrian border around the Alps as it has everything. The scenery is amazing, in the winter it's great for skiing, and in the summer there are plenty of lakes for swimming or rivers for white water rafting. There are a few good beer festivals too! 
What is your favourite book?
I have a keen interest in anything to do with the Second World War and I tend to read books around this subject. A particular favourite of mine has to be Berlin: The Downfall 1945 by Antony Beevor. For those that are interested, it tells the story of the Battle of Berlin and how the Red Army conquered the city and brought an end to the war.
What is your favourite pastime?
One of my favourite things to do outside of work is to travel. I lived in Germany for 20 years and being in the centre of Europe meant that countries such as Holland, France, Spain, Italy and Austria, etc. were easily accessible by rail and road.  At 19, I spent the 'mandatory' year backpacking around Australia, which was a great experience and I even tried my hand at working on a farm! I have been lucky enough to visit all sorts of amazing places, including Thailand, New Zealand, Fiji, Canada, Bulgaria and various parts of the USA. Having said all that, going to watch Manchester City F.C. is a close second on my list of favourite things to do!!